#LVD2023: A Lesbian* Perspective On Italy Under Meloni
Lesbian Visibility Day 2023
Our advocate Séverine De Bruyn travelled to Italy to better understand the situation for lesbian* women. On this Lesbian Visibility Day, she writes about her experiences in the founding member state of the European Union. 
"Gender ideology will be to the detriment of women."
"I would regret the news of a gay son: as if he were a Milan supporter, different from me. A straight father would like his son to be like him."
These are just two of the statements that have echoed in Italian society in recent months. Needless to say that the LGBTIQ+ communities and the position of women are under serious threat. But what is it really like to live as a female member of the LGBTIQ+ communities in Italy? With this question I went to the land of la dolce vita.
My first stop is Parma.
Here I spoke to Eleonora Meloni. Her last name is no joke. Fortunately, this surname is the only thing Eleonora shares with the first female prime minister of her country. The Sardinian works as a psychologist and sexologist.  For the last few years, she has been a volunteer at Ottovacolore, a local LGBTIQ+ organization in Parma.
Ottovacolore is an NGO that cooperates with, among others, the city council of Parma and the Red Cross. Their activities are very diverse: providing social leisure activities, providing legal assistance, organizing a self-help group, etc.
With her background as a psychologist, Eleonora is the perfect person to lead this self-help group. She also works with the LGBTIQ+ communities in her professional life. For example, you can contact her for therapeutic guidance concerning coming-out or sexuality. Family and friends of LGBTIQ+ people can also contact her.
I ask her how it is to live in Italy as a member of the LGBTIQ+ communities.
"It depends on the region you live in. In general, it is  easier in the north than in the south. Just as it is probably easier in cities than in small towns. In small towns they can perceive you as the weirdo of the town… Besides the region, the people you are surrounded with also play an important role. Do your friends and family accept you as a member of the LGBTIQ+ community? This is also an important factor."
Eleonora also shares her personal  experiences. Ottovacolore is an organization where she feels home as a bisexual woman. A place where there is no bisexual erasure. Outside Ottovacolore, she has experienced discriminations. When it comes to straight men, she was confronted with those thinking that all bisexual women are interested in threesomes. She has also been told that "It's okay if you cheat on me with a woman, but not with a guy." But she was also discriminated by lesbian women, calling her a 'hybrid person'.
What about sex education in Italy?
"Frankly, it's difficult! The Red Cross is positive towards LGBTIQ+ issues. They have an inclusive program for sex education. In Italy it is impossible to enter a school to talk about LGBTIQ+ topics. The consequence is that you must use education on sexual transmitted diseases (STD's) as a trojan horse. And once you are in the school, it all depends on the attitude of the pupils and the questions they have."
"You can start talking about LGBTIQ+ issues, respect in sexual relations, how to have sex, etc. But if you approach a school with a program about inclusive sex education, the chances are very low that you will be able to have access to the school. Even if you succeed in entering a school with the traditional talk about sexually transmitted diseases, and you can transform it into an inclusive session, you will get a serious backlash afterwards."
Eleonora told me about a sex education course she gave in a few schools in Piacenza. As a reaction to it, local politicians, some parents, and so-called 'anti-gender' movements wrote an article against her published by the local newspaper.
"In general, there is a stigma about comprehensive sex education. It can only be about sexually transmitted diseases, not about respect, or how to have sex. In Italian society sex is very present, but you can't talk about how to have sex. A positive approach towards sexuality is impossible in Italy."
Despite these difficult circumstances, Eleonora's perseverance convinces me that she will keep fighting for every member of the LGBTIQ+ communities and inclusive sex education. She is one of the young people who can change this country.
My next stop is Modena.
This is the city where Ferrari was born. I am invited by Angelica Polmonari and Elisa Fraulini to the weekly opening of Arcigay Modena Matthew Shepard, the local committee of Arcigay. Here, I meet among others the volunteers of Telefono Amico (the helpline for members of our community), Giorgio Dell'Amico (responsible for migration issues), Claudio Montagna and Cornelia Dzeyk, two volunteers at Agedo Modena. Agedo Modena, associated with Agedo Nazionale, is made up of parents, relatives, and friends of the LGBTIQ+ people, who are committed to the their civil rights and their right to personal identity.
Claudio and Cornelia have been volunteers with the organization for 11 years. When their son came out, he advised them to go to Agedo. After attending their first pride in Rome, they decided to do something for the LGBTIQ+ communities. "It was so overwhelming, so we decided to do something to help other parents, but also the young LGBTIQ+ people."
Parents come to them when they have difficulties with the coming-out of their child, but mostly Claudio and Cornelia see them only once. Most parents don't want to become a volunteer, because they don't want to be associated with the LGBTIQ+ communities. We talked a little bit deeper about the attitude of parents in Italy towards their child who is LGBTIQ+.
A lot of parents know this about their child, but they don't talk about it. This attitude is deeply rooted in the culture of silence that characterizes Italy. Cornelia makes the comparison with Germany, where she comes from.
"In Germany we work around what we did wrong during the world war, we don't deny fascism.  That is why we organize exhibitions, we talk about our mistakes, so that we don't  repeat them again. We educate our children about the dangers of fascism, about what we did wrong. In Italy nobody talks about the horror Mussolini did, about the dangers of fascism. As a consequence people vote for extreme-right political parties without even knowing what fascism is."
I ask Claudio and Cornelia why Italian society experiences so much difficulty in accepting LGBTIQ+ people. Why is it so difficult to be an LGBTIQ+ person in Italy?
They tell me there are a lot of reasons. An important one is that there is no education about LGBTIQ+ topics. In schools you don't learn about respect for other people. The school system must change urgently. Next to this, there is the negative influence of the Catholic Church and the Pope.
Of course, we can't forget the politicians and the so-called 'anti-gender' movements that bombard Italian society with statements directed against LGBTIQ+ people. Finally there are the media, which are not independent. Berlusconi's family is the major stakeholder of Mediaset S.p.A., an Italian mass media company which is the largest commercial broadcaster in the country. And the public broadcaster RAI, whose leaders changed when a right-wing government came to power.
At the end of our conversation, I asked them if I would quote them, what should I write. Their answer was clear: "Change has to come from the young people in Italy. That's why it is so important that the education system should change in Italy."
My last stop: Bologna.
Bologna is often cited as the most open-minded city of Italy. Besides being the home of the most prestigious university of Italy and its students, there is also a lot of activism and rebellion, especially against fascism. Other hot topics like climate change are very alive in this city, as demonstrated by all the graffiti on the walls.
For lunch, I am meeting Clara Lhullier, a lesbian transfeminist researcher from Brazil. She has lived for four years in Bologna. During these years she was a volunteer at Cassero, the LGBTIQ+ center.
Between pasta and wine, we start talking about her research on lesbian women in politics. For this research, she compares the murdered Marielle Franco, the Brazilian figurehead of women from our community, with the Serbian Prime Minister Ana Brnabić.
When I ask about her own experiences in Bologna, she confirms the reputation of the city: "Bologna is the queer capital of Italy. Here you can walk hand in hand, gay people are generally accepted, and you are safe, you can be out. But being out is possible here only for women in a privileged position, I mean women who are white, highly educated, etc. It is much more difficult if you are black or trans."
Clara continues: "Even in Bologna, I ended up in uncomfortable situations. When I was walking with another woman on the street (this did not need to be my girlfriend), men approached us, asking us uncomfortable questions. When they heard I came from Brazil, they immediately assumed I came to Italy to look for a husband. This is the mindset of a lot of men in Italy: a woman who comes from another country only comes to Italy to find a husband."
This evidence of patriarchy is even stronger in the countryside. Clara told me that it is almost impossible for a woman to visit a bar in the countryside without ending up in these situations which are not only uncomfortable, but sometimes even dangerous.
"Even a lot of straight people who accept LGBTIQ+ people don't see the problem of this patriarchal way of thinking about women, approaching women, and treating women." Related to this, I asked her about hate crimes against LGBTIQ+ people. She confirmed to me that they happen frequently, but that they are not often seen as hate crime. Even in Bologna, hate crime against LGBTIQ+ people has certainly not been eradicated.
A few days later I visited the Casa delle Donne contro la Violenza where I saw the documentary Io sono femminista! about the history of feminism in Bologna. The struggle of these women is indescribable in words. One testimony touched me strongly.
A woman explains that she only wanted her second childbirth to take place at home. She couldn't find a gynaecologist who wanted to do this for the first one. When the gynaecologist came to her home to give birth to her second son, she asked him if he knew why she wanted this. She explained to him that she wanted him to see under what circumstances an abortion would take place if women did not get help in hospitals. An important theme in this documentary is abortion, and especially the right to it. Being victim of 'corrective rape', lesbian and bisexual woman are specifically concerned about abortion rights.
This documentary made me think back at the examples I read the last year about violence against women of our communities in Italy. I remember that almost every week you could read about aggression towards LGBTIQ+ people. One of the most horrifying stories I've read happened last summer. An underage girl was stabbed by her father because he discovered she had a relationship with another girl. The girl's mother fully supported the father. Both girls had to flee from the raging father. It almost became fatal for one of them.
As I finished drafting this article, Italy – together with Poland and Hungary – has been condemned by the European Parliament for the anti-LGBTIQ+ rhetoric used by the Government and political leaders.
After almost ten days in Italy and countless encounters, I am left with mixed feelings. I've seen a lot of resilience and willpower. But at the same time, I also saw a society in crisis regarding the respect of fundamental human rights. With an education system where there is no room for LGBTIQ+ topics and comprehensive sexual education, media that are not independent, a culture of silence, and a patriarchal way of thinking about women, it is more than time to sound the alarm.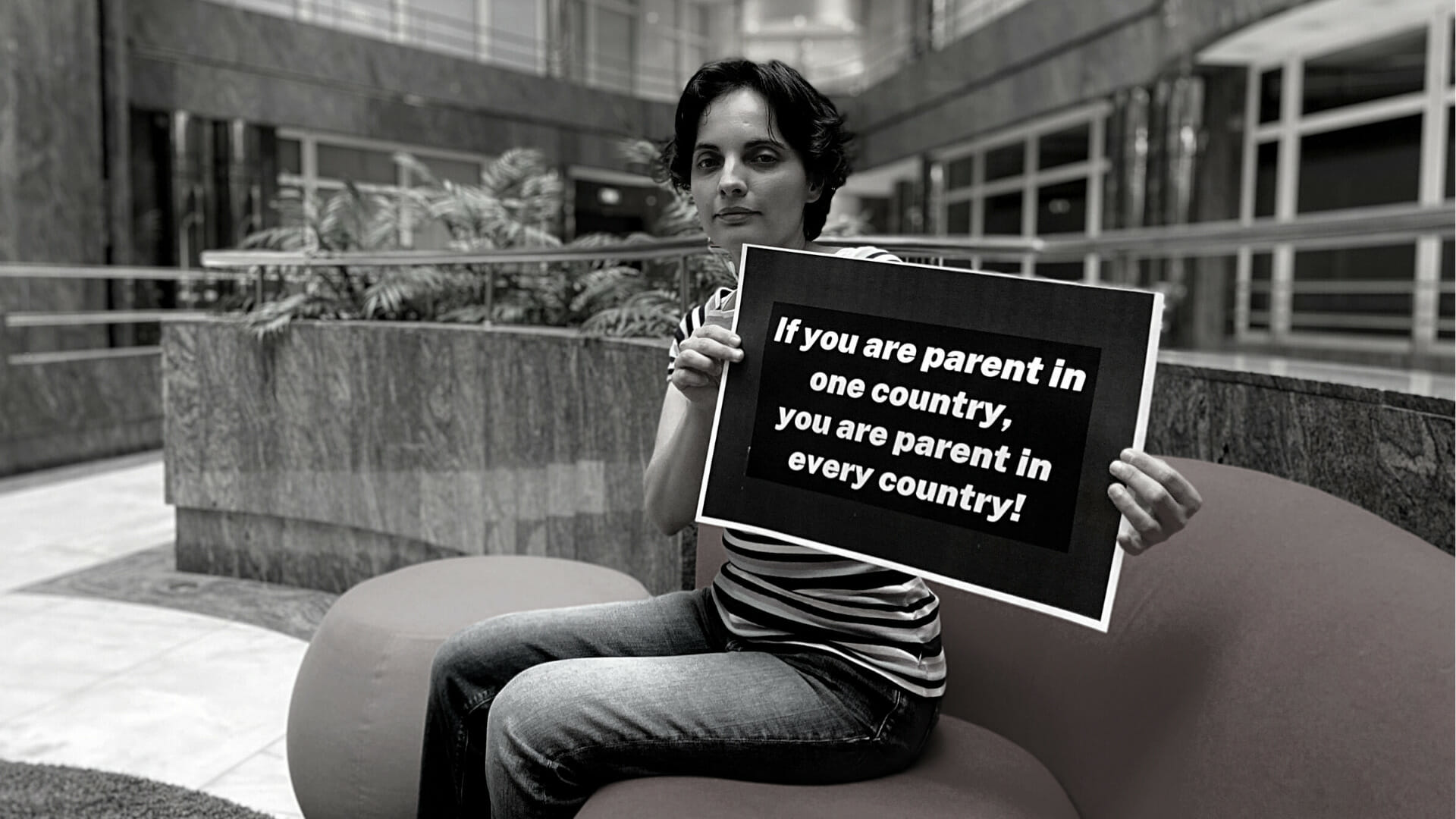 Séverine De Bruyn
Advocate
Séverine De Bruyn is an advocate at Forbidden Colours focussing on the situation of queer women and Southern Europe. She graduated as a psychologist and works as a senior policy officer.