We help Ukrainian LGBTIQ+ Refugees
800 LGBTIQ+ refugees from Ukraine were helped
Forbidden Colours and our partner organisations were able to help over 1000 refugees from Ukraine to find a queer safe space in the European Union.
Forbidden Colours is making a difference on the ground with your support.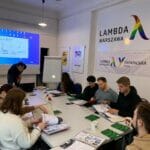 Our Polish partner Lambda Warszawa has already helped hundreds of LGBTIQ+ refugees fleeing the war in Ukraine. Next to providing a safe space for queer refugees, they also provide legal and psychological help. On the picture you see Lambda Warszawa teaching Polish to the refugees – which is essential to integrate into the Polish job market.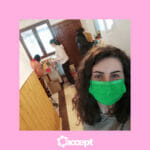 Our Romanian partner ACCEPT Romania is also providing safe spaces for queer refugees arriving from Ukraine. They cooperate closely with the Moldovan GenderDoc-M since many of the refugees first arrive in Moldova. Currently, they are working hard to find long-term solutions for the refugees, such as integration in the Romanian job market.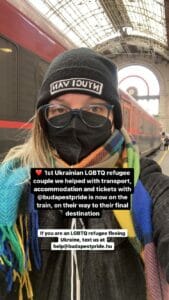 Our Hungarian partner Budapest Pride is providing queer refugees with host families in Budapest. In Szeszgyar, they have also opened a community center for the refugees. There they can go, drink a coffee and rest. Budapest Pride also helps (and pays for) the refugees by arranging further travel when they don't want to stay in Hungary. They also give SIM-cards to the refugees so they can keep in contact with their peers in Ukraine that weren't able to flee the war.
On the picture you see Budapest Pride organiser Viktoria Radvanyi taking the train to the Hungary-Ukraine border to pick up the first refugees arriving.
Through advocating with policy-makers and media, we have worked on lifting the ban for trans persons that didn't legally change their gender yet to flee Ukraine. Our sources tell that several European governments have requested this from the Ukrainian Interior Ministry.
Besides this, we are working on a list of Russian individuals that are linked to anti-LGBTIQ+ initiatives in the European Union and have supported Russia's aggression in Ukraine. The list will be communicated with European governments so they can sanction these individuals.
All Ukraine-related projects supported by Forbidden Colours